Fashion Polka Dot Compression Socks - 01423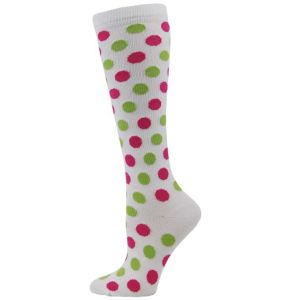 Fashion Polka Dot Compression Socks - 01423
Fashion Polka Dot Compression Socks in Bulk. Think Medical™ compression socks enhance circulation, provide support, and helps relieve leg fatigue! These polka dot fashion socks feature gradient compression that delivers controlled pressure from ankle to calf in order to promote better blood flow throughout the lower leg. Wear them daily for lower leg support and enjoy the comfort of a non-restrictive band and built in arch support. Fashion Polka Dot Compression Socks are available in wholesale and bulk orders only.
10-14mmHg Gradient Compression
90% Nylon, 8% Elastic, 2% Spandex
Energize tired legs
Reduce muscle strain and Relieve varicose vein discomfort
Prevent swelling
Non-restrictive comfort top
Built-in arch support
Ideal for everyday wear.
Machine wash warm. Tumble dry low. Do not bleach.